CURRENT TOP SELLERS
POPULAR BRANDS
Netgear CG3000D-v2 N450 DOCIS 3 WIRELESS CABLE MODEM GATEWAY(Time Warner, Cox, Cablevision, Charter, Earthlink, + More!)
Product Description
**TIME WARNER MODEM AMAZING LIMITED TIME OFFER!***
WiFi Cable Modem Router
802.11n Gigabit
Faster Internet. Better WiFi. One Device.
Take advantage of the new, higher speeds cable providers are offering—without taking on their cable modem rental fees. This 2-in-1 Time Warner Modem WiFi router and DOCSIS 3.0 cable modem unleashes 8x faster download speeds—up to 340 Mbps—faster, smoother WiFi, and works with all major cable Internet providers.
Model: N450 Time Warner Modem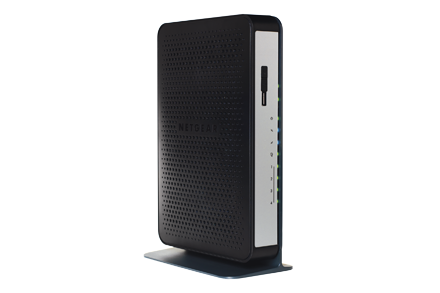 **SAVE UP TO $600 FOR EVERY 5 YEARS YOU OWN YOUR MODEM!**

FEATURES:
8x faster cable Internet download speeds, up to 340 Mbps

Cable Labs Certified DOCSIS 3.0 Modem

Faster WiFi Speeds – N450 WiFi

Compatible with major cable Internet providers

USB port to wirelessly share your hard drive

Eliminates modem rental fees from cable provider
Speed
With the DOCSIS 3.0 platform, you're finally geared up for the latest, fastest speeds cable providers are bringing to the home. Combined with outstanding WiFi range and performance, the 2-in-1 N450 Time Warner modem takes your connected home to the next high-speed level, providing smooth HD streaming, uninterrupted online gaming, and fast, reliable internet for all the devices in your home.
FASTER WIFI—Up to 450 Mbps

DOCSIS 3.0—Up to 8x faster cable Internet speeds than DOCSIS 2.0

GIGIABIT WIRED—Ideal for HD gaming and video

CUT YOUR MONTHLY TV BILL NOW!

Try Amazon Music Unlimited Free Trial
WiFi Range
Upstairs, downstairs, in the kitchen, in the office, even in the garage. At NETGEAR, we know you want and need great WiFi in every room of the house. The N450 Time Warner Modem delivers—with enhanced range powerful enough for medium to large homes.
RANGE—For medium to large homes
Reliability
No more walking into another room and losing your WiFi signal. With NETGEAR's advanced QoS features & best-in-class technology, you'll enjoy more reliable WiFi connectivity and video streaming for all your devices.
ADVANCED QoS—Optimized for smooth HD streaming & gaming
Sharing
Easily add USB hard drives via a USB port and then wirelessly access them. Play music on your DLNA game console. Watch stored videos and view photos on DLNA TVs. With the N450 WiFi Time Warner Modem Router, sharing across your network is quick, easy, and perfectly designed for your media-rich world.
DLNA®—Find & play your media on DLNA TVs & game consoles

READYSHARE® USB ACCESS—Wirelessly access & share USB hard drives via USB port
Ease of Use
Out of the box, the N450 Time Warner modem sets up in minutes. Connect a few cables, plug it in, and make a few clicks to connect WiFi devices. It's that easy, that fast. And management of your network is just as simple, whether it's sharing media, accessing hard drive, setting up guest access, or implementing parental controls.
EASY INSTALL—Easy setup for iPad®, tablets, smartphones and computers

WIFI & POWER ON/OFF—Convenient power savings

PUSH 'N' CONNECT—Easy push button WiFi connections (WPS)
Security
Your home network is no one else's business. And NETGEAR keeps it that way with high-level security features to prevent phishing & spyware as well as smart access controls for kids & guests.
PARENTAL CONTROLS—Safer web surfing for all your connected devices

GUEST NETWORK ACCESS— Separate and secure access for guests

SECURE WIFI CONNECTIONS—Highest level wireless security with WPA/WPA2

8x4 CableLabs® certified DOCSIS® 3.0

Four (4) 10/100/1000 LAN Gigabit Ethernet ports with auto-sensing technology

Key Features of this Time Warner Modem

Cable modem plus N450 WiFi router

Cable Internet download speeds up to 340 Mbps

N450—Up to 450Mbps @ 2.4GHz

Excellent range & coverage

Supports IPv6

Live Parental Controls

Wi-Fi Protected Access® (WPA/WPA2—PSK)

Double firewall protection (SPI and NAT firewall)

Denial-of-Service (DoS) attack prevention

Push 'n' Connect—Easy push button WiFi connections (WPS)

Dimensions: 10.21 x 6.5 x 3.65 in (259 x 165 x 93 mm)

Weight: 1.3 lb (0.59 kg)

Two (2) USB 2.0 ports

One (1) coaxial port for cable Internet

IEEE® 802.11 b/g/n 2.4 GHz

Four (4) 10/100/1000 LAN Gigabit Ethernet ports with auto-sensing technology

Item is in QUALITY REFURBISHED CONDITION without box with EXTENDED WARRANTY and includes:

• Netgear CG3000D-v2 N450 DOCIS 3 WIRELESS CABLE MODEM
• Power Supply
• Cat5e patch cord

Items user guide: http://www.downloads.netgear.com/files/GDC/CG3000DV2/N450_CG3000Dv2_UM_03Apr2014.pdf

System Requirements of this Time Warner Modem

Cable broadband Internet service

Microsoft® Windows® 7, 8, Vista®, XP, 2000, Mac OS®, or other operating systems running a TCP/IP network
Microsoft® Internet Explorer® 5.0, Firefox® 2.0, Safari® 1.4, or Google Chrome™ 11.0 browsers or higher

Use with an N900 adapter like NETGEAR WNDA4100 for maximum performance

CUT YOUR MONTHLY TV BILL NOW!

Try Amazon Music Unlimited Free Trial

BUY NOW AND NEVER PAY ANOTHER LEASE FEE AGAIN!!
Product Videos
How To Set Up Your Netgear N450 - Watch Before You Connect!!
10:40
Netgear N450: http://amzn.to/1V21OXf UK Shoppers: http://amzn.to/231ip2n Filmed On Canon 60D: http://amzn.to/1MWM12T ******************************************************************** Head To: My V-Log Videos: http://youtube.com/bensbergfilms Dumpster Diving Web Series: http://dumpsterdivinghq.com Product Review Site: http://productreviewshq.net ******************************************************************** Want to Buy a cup of coffee for me? Thank you coffee keeps me making great videos: Bitcoin Send Here: 1EbhbFNx5Er3xbn9gJB7xr7NuNERzYzRfz PayPal Address: [email protected] Ripple XRP Here: rG6MDJomMSnpiDNFjJXm6e5GsWCcg6REWb FairCoin Here: fMU2dYDhj4MEDQ8Jkj83hnzbdMj4h1qHR7 ******************************************************************** My How To Start A Website or Blog Video: http://youtu.be/i--FqFMAdD0 ******************************************************************** Like Me On Facebook: https://facebook.com/cbensberg Twitter: https://twitter.com/chrisbensberg Instatgram: http://instagram.com/chrisbensberg ******************************************************************** Subscribe Here For More Amazing Videos http://youtube.com/TipsNNTricks Music by LocL DJ: (music at outro) Song: Floating On https://soundcloud.com/locldj ******************************************************************** Thanks for watching. God Bless Business Only Please: [email protected] ******************************************************************** Today I show you how to setup your Netgear N450 cable modem router and what information you need to give to your internet provider before you can experience the speeds you paid for.
How To Set Up ...

Netgear N450: http://amzn.to/1V21OXf UK Shoppers: http://amzn....
Find Similar Products by Tag
Find Similar Products by Category