**TIME WARNER WIRELESS MODEM LIMITED TIME OFFER!!**
Backed by our extended warranty!


DOCSIS 3.0 / EURODOCSIS 3.0 WIRELESS-N VOICE/DATA CABLE GATEWAY
CG3000_CG3100
8 Downstream plus 4 Upstream Channel bonding on the WAN, delivering; Up to 400 Mbps
Wireless-N delivers exceptional range and speed
Four Gigabit Ethernet ports deliver ultra-fast wired network connections
The NETGEAR CG3000D Wireless Time Warner wireless modem Gateway delivers the ultimate in performance for home and small business networking. This Gateway offers both wired and wireless connections for blazing fast data transfers, Real Time HD media streaming, gaming and maximum Internet bandwidth. Along with four Gigabit Ethernet ports enabling maximum wired speeds, this full featured high performance gateway is an ideal solution for the connected home or small business with multiple computers and network enabled devices running multiple applications at the same time.
On the DOCSIS 3.0 WAN side, with advanced support for four downstream channels, the CG3000/CG3100 Time Warner wireless modem enables you to deliver competitive high-speed services.
**SAVE UP TO $600 FOR EVERY 5 YEARS YOU OWN YOUR MODEM!**
Features of this Time Warner Wireless modem
8 Downstream plus 4 Upstream Channel bonding on the WAN, delivering; Up to 400 Mbps

Wireless-N delivers exceptional range and speed

Four Gigabit Ethernet ports deliver ultra-fast wired network connection

USB Host – 1 USB port

Push 'N' Connect Wi-Fi Protected Setup™ (WPS) enables quick and secure connection to the network

This Time Warner wireless modem is easy to set up.

Enterprise class WiFi security

Dedicated Quality of Service for jitter-free video streaming, VoIP and lag-free gaming

High-efficiency power amplifiers and multiple antennas enhance range and reliability
Item is in QUALITY refurbished condition with EXTENDED WARRANTY.
INCLUDED IS EVERYTHING NEEDED:
1 NETGEAR CG3000D DOCSIS 3 MODEM WIRELESS MODEM GATEWAY

1 External Power Cord

1 CAT5e High Speed Ethernet Cord

USER GUIDE LINK:

ftp://downloads.netgear.com/pub/netgear/docs/cg3000dv2/enu/202-11278-01/CG3000Dv2_UM-14MAY2013.pdf
Wireless Flexibility
This Time Warner wireless modem Provides high-speed wireless service in addition to wired LAN. This high performance Gateway offers extended WiFi range with multiple internal antennas, added noise immunity, packet acceleration, Multiple SSIDs, Wireless Multimedia (WMM) QoS and WPS. The built-in 802.11n wireless access point extends a network to supports up to 300 Mbps without any new cabling.
Safe and Secure
Firewall with Stateful Packet Inspection (SPI) and Network Address Translation (NAT) secures your network against hackers. NAT Firewall with VPN (virtual private network) pass-through protects against Internet attacks, and auto-partitioning on each port protects each installed computer from damaged network connections. URL content filtering and time-of-day usage limits give parents and administrators ultimate control over user access. Emailed reports of browsing activities and optional real-time email alerts provide further input on user activity. NETGEAR's Push 'N Connect™ WiFi Protected Setup makes wireless security configuration easier than ever.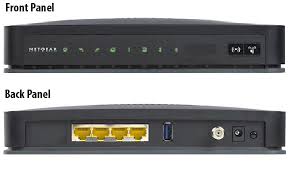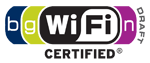 CUT YOUR MONTHLY TV BILL NOW!
**SAVE UP TO $600 FOR EVERY 5 YEARS YOU OWN THIS TIME WARNER WIRELESS MODEM!**