**AMAZING LIMITED TIME DEAL ON THIS ARRIS DOCSIS 3 MODEM!!**
PACKAGE INCLUDES BOTH ITEMS LISTED BELOW!
Backed by our extended warranty!
The Touchstone CM820a Arris Docsis 3 modem 3.0 8x4 delivers ultra-high speed data access to cable service subscribers homes and businesses.
Designed to support the services desired most by advanced users, the Arris Docsis 3 modem CM820A enables the home or small business user to address productivity
needs with the speed and performance found only in the 8x4 bonded channel cable environment along with industry-leading ARRIS reliability.
With the CM820A, cable operators can offer data services at speeds greater than 300Mbps to their subscribers to compete against VDSL and
fiber to the home threats, as well as provide a platform to deliver competitive high capacity commercial services to businesses.

•Flexible NxM downstream/upstream channel bonding for superior throughput
•Two independent 96MHz wide RF tuners to receive downstream channels up to 1GHz
•Built in MoCA® immunity filter
•Downstream scanning override via web GUI for rapid installation
•Meet or exceed industry radiated immunity and surge requirements

Arris Docsis 3 modem compliant
CM820B and CM820S dual-mode EuroDOCSIS™ 3.0 / DOCSIS® 3.0 compliant
CM820C Japanese DOCSIS 3.0 compliant
8x4 downstream/upstream channel-bonding with superior throughput
Dual 96MHz wide downstream tuners
Backwards compatible with DOCSIS 1.0, 1.1, and 2.0
IPv4 or IPv6 addressing modes for DOCSIS CM layer
10/100/1000 Base-T Ethernet interface
**SAVE UP TO $600 FOR EVERY 5 YEARS YOU OWN THIS ARRIS DOCSIS 3 MODEM!**
****PACKAGE ALSO INCLUDES THE ROUTER LISTED BELOW****

Loaded with Features – High Performance
The NETGEAR N600 Wireless Dual Band Gigabit Router – Premium Edition (WNDR3800) delivers high performance WiFi speed and range required for demanding applications along with a suite of premium features that makes the most out of your home network. Premium features include dynamically selecting clearest WiFi channels, access to connected USB Hard drive from anywhere at any time, dedicated video mode, Time Machine compatible and Genie for easy dashboard control.
The NETGEAR Difference – WNDR3800

ReadyShare Cloud

– Access anytime/anywhere

ClearChannel Selector

– Reliable WiFi

Video Mode

– Better video streaming

Apple Time Machine Compatible

Applications

HD video streaming & multiplayer gaming

Access files anywhere/anytime

Reliable WiFi for better streaming and gaming

For PC and MAC households
Network Speed

Faster WiFi Speed – N600 Dual Band WiFi delivers 300 + 300Mbps for combined wireless speeds up to 600Mbps




Gigabit Wired – Gigabit Ethernet LAN ports are ideal for HD gaming & video and ultra, high-speed wired networking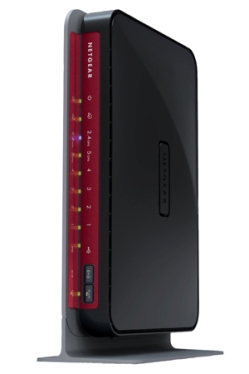 Wireless Range
Better Range – Powerful WiFi amplifiers deliver improved wireless range for larger homes
Reliable Connections

Clear Channel Selector – Dynamically avoids busy Wi-Fi channels for clear and fast wireless connections automatically




Video Mode – Dedicated wireless network for video streaming




Simultaneous Dual Band – Wireless access on both 2.4- and 5-GHz bands concurrently, reduces WiFi interference & doubles total available bandwidth
Ease of Use
NETGEAR Genie – Easy-to-use dashboard to monitor, control & repair home networks




CD-Less Installation – Easy setup for iPads, PC, MAC computers, smartphones & tablets without a cd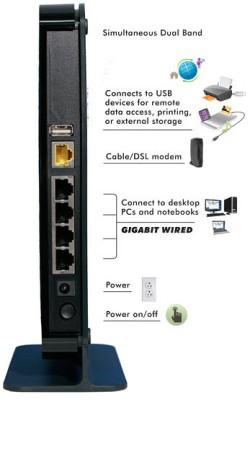 Push 'N' Connect – Secure push button WiFi connections using WiFi Protected Setup (WPS)




Wifi & Power On/Off – Convenient power savings to power down the entire router and/or just WiFi
Sharing
ReadySHARE Cloud‡ – Access and share files on an attached USB hard drive anywhere you have an Internet connection



Time Machine Compatible – Automatic Mac backup to connected USB hard drive, wirelessly




Extended Tivo Storage – Stream TiVo video recordings from a USB drive connected to the router serving as extra storage for your TiVo recordings




Open Platform – Enhance performance and features by installing open source firmware and joining the open router community at www.myopenrouter.com




DLNA Media Server – Find and play media stored on an attached USB storage device on DLNA TVs, game consoles and media players




ReadySHARE USB – Wirelessly access and share USB hard drives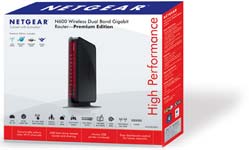 Security
Live Parental Controls – Centralized and easy-to-use website filtering for all devices connected to the Internet via the router




Guest Network Access – Separate and secure WiFi access for guests using your home network
---


Highlighted Icons = Premium Edition Features
CUT YOUR MONTHLY TV BILL NOW!
Try Amazon Music Unlimited Free Trial
**BUY THIS ARRIS DOCSIS 3 MODEM PACKAGE AND SAVE UP TO $600 FOR EVERY 5 YEARS!**