**ARRIS TELEPHONE MODEM AMAZING LIMITED TIME DEAL!!**
***This listing includes both of the items below***
Backed by our extended warranty!
CUT YOUR MONTHLY TV BILL NOW!
Arris telephone modem Touchstone E-MTA TM822G
Toll grade voice performance equal to the industry leading TM602/TM722 family of products
Two independent 96MHz wide RF tuners to receive downstream channels up to 1GHz
Configurable options for loop current, loop voltage management, and ringing waveform
Loop Diagnostics for remote testing and troubleshooting of in-house wiring
Advanced Diagnostics for easy troubleshooting - Call Quality Metrics for last fifty (50) calls
The Arris telephone modem Touchstone DOCSIS 3.0 8x4 Embedded Multimedia Terminal Adaptor (E-MTA) TM822G delivers two lines of primary line Voice over IP (VoIP), ultra-high speed data access, and multiple battery pack options to support telephony service during power outages. Designed to support the services desired most by advanced users, the Arris telephone modem TM822G enables the home or small business user to address productivity needs with the speed and performance found only in the 8x4 bonded channel cable environment along with industry-leading ARRIS voice and battery back-up features. With the Arris telephone modem TM822G, cable operators can offer data services at speeds greater than 300Mbps to their subscribers to compete against VDSL and fiber to the home threats.
**SAVE UP TO $600 FOR EVERY 5 YEARS YOU OWN YOUR MODEM!**
Arris Telephone Modem Touchstone

E-MTA TM822G
DOCSIS 3.0 compliant
PacketCable ® 1.0 and 1.5 compliant
PacketCable ® 2.0 support with firmware upgrade
Flexible 8x4 downstream/upstream channel-bonding with superior throughput
Backwards compatible with DOCSIS 1.0, 1.1, and 2.0
Up to two lines of carrier-grade VoIP
Multiple Protocol Support: PacketCable (NCS) or Session Initiation Protocol (SIP)
IPv4 or IPv6 addressing modes for DOCSIS CM layer
ITEMS ARE IN REFURBISHED CONDITION
INCLUDES EVERYTHING NECESSARY FOR INSTALL
- Arris TM822g Modem + Netgear R6300 Wirelss A/C router
- POWER CORDS
-ETHERNET CORD/CAT5 CABLES
-CUSTOM INSTALL INSTRUCTIONS
-EXTENDED WARRANTY!
Netgear R6300 User Guide: https://www.downloads.netgear.com/files/GDC/R6300/R6300_UM_1Jun12.pdf
Arris Telephone Modem TM822g User Guide: https://arris.force.com/consumers/articles/General_FAQs/TM822G-NA-Installation-Setup/?l=en_US&fs=RelatedArticle
***THIS PACKAGE ALSO INCLUDES THE WIRELESS ROUTER BELOW!***
AC1750 WiFi—450+1300 Mbps speeds
Ultimate wireless coverage for large homes
Ideal for homes with 12 or more WiFi devices
NETGEAR genie® App—Enjoy more of your connected home
Speed
Everything you need for a fast, fast, fast connected home. Next generation 11ac WiFi with dual band technology provides whole home coverage with Gigabit wired & wireless connections.
AC1750 WiFi—Up to 450+1300 Mbps speeds

Gigabit WiFi—Next-generation WiFi now at Gigabit speeds

Gigabit wired—Ideal for HD gaming & video

Dual core processor—Dual Core 800MHz processor boosts wireless, wired & WAN-to-LAN performance
WiFi Range
Got range? Homes come in all shapes and sizes and R6300 Smart WiFi Router provides WiFi coverage no matter where you connect in your home.
Range—For large homes

CUT YOUR MONTHLY TV BILL NOW!
Reliability
There's nothing more frustrating than lost connections! With NETGEAR's advanced features & best-in-class technology, you'll reduce interference & enjoy more reliable WiFi connectivity.
Simultaneous dual band—Reduces interference for better connections to more WiFi devices

Advanced QoS—Optimized for smooth HD streaming & gaming

Beamforming+—Boosts speed, reliability & range of WiFi connections
Sharing
With NETGEAR, sharing across your network is fun and easy, anything from accessing stored photos & music to wireless printing.
DLNA®—Find & play your media on DLNA TVs & game consoles

ReadySHARE® USB access—Wirelessly access & share USB hard drive & printer via two (2) USB ports

One superspeed USB 3.0 port—Up to 10x faster than USB 2.0

ReadySHARE Printer—Wirelessly access & share a USB printer

ReadySHARE Vault—Free software for automatic PC backup to a USB hard drive connected to the router
Ease of Use
Start enjoying your new device faster than ever. NETGEAR wants to make sure installation and management is simple & easy, so you can connect quickly & make sure you stay that way!
Easy install—Easy setup for iPad®, tablets, smartphones & computers

NETGEAR genie® App—Personal dashboard to monitor, control & repair your home network

Push 'N' Connect—Easy push button WiFi connections (WPS)

WiFi & power on/off—Convenient power savings
Security
Maintain the highest security across your network to ensure your privacy & family is safe while online. Whether it's preventing phishing & spyware or just limiting access for kids & guests, NETGEAR has you covered.
Parental controls—Web filtering for all your connected devices

Guest network access—Separate & secure access for guests

Secure WiFi connections—Highest level wireless security with WPA/WPA2
USB 3.0 and dual core 800MHz processor are features on the R6300v2 hardware only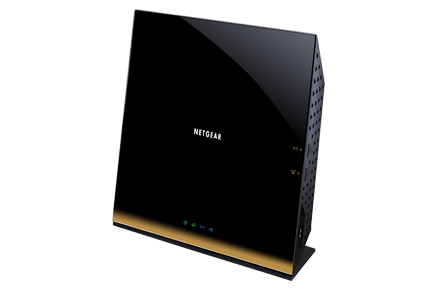 AC1750 WiFi (450+1300 Mbps)†
Simultaneous dual band 2.4 & 5GHz
Beamforming+—Smart, signal-focusing technology boosts the speed,reliability, & range of your WiFi connections
Five (5) 10/100/1000 (1 WAN and 4 LAN) Gigabit Ethernet ports with auto-sensing technology
Two (2) USB ports—one USB 3.0 and one USB 2.0 port
AC1750 WiFi—450+1300 Mbps† speeds

Ultimate wireless coverage for large homes

Ideal for homes with 12 or more WiFi devices

NETGEAR genie® App—Enjoy more of your connected home

Beamforming+—Faster, more reliable connections

Dual-Core 800 MHz processor delivers high-performance connectivity

USB 3.0 port —Up to 10x faster USB hard drive access

Two USB ports—Wirelessly access and share USB hard drive and printer

Ultimate connectivity for dual band WiFi devices like iPad® /iPhone5®
WiFi Protected Access® (WPA/WPA2—PSK)

Double firewall protection (SPI and NAT)

Denial-of-service (DoS) attack prevention
800MHz dual-core processor
128 MB flash and 256 MB RAM
Dimensions: 191 x 198.5 x 65 mm (7.5 x 7.79 x 2.55 in)

Weight: 430 g (0.94 lb)
Two (2) USB ports—one USB 3.0 and one USB 2.0 port

IEEE® 802.11 b/g/n 2.4GHz

IEEE® 802.11 a/n/ac 5.0GHz

Five (5) 10/100/1000 (1 WAN and 4 LAN) Gigabit Ethernet ports with auto-sensing technology
Microsoft® Windows 7, 8, Vista® , XP®, 2000, Mac OS® , UNIX® , or Linux

Microsoft® Internet Explorer® 5.0, Firefox® 2.0, Safari® 1.4, orGoogle Chrome™ 11.0 browsers or higher

Use laptop with 3x3 450 Mbps adapterlike Centrino® 6300/5300, or 802.11ac adapter like NETGEAR A6200 for maximum performance
CUT YOUR MONTHLY TV BILL NOW!
**BUY NOW AND SAVE UP TO $600 FOR EVERY 5 YEARS YOU OWN YOUR MODEM!**
*Terms and Conditions apply to the following
**BUY THIS ARRIS TELEPHONE MODEM AND SAVE UP TO $600 FOR EVERY 5 YEARS!**