We couldn't possibly make it any clearer.
Internet congestion is the enemy of voice quality. Hear for yourself how our competitor holds-up under 30% data loss. Then hear Ooma call quality under the same conditions. Ooma PureVoice™ HD technology delivers superior voice quality even under extreme conditions using a collection of advanced technologies only Ooma can provide.
Here's how the magic happens:
Advanced Voice Compression
Ooma uses an advanced voice compression algorithm that reduces bandwidth by 60% over standard VoIP technology. This leaves you with more bandwidth for all your other online activities.

Wire-speed QoS
Although Ooma uses a mere fraction of the bandwidth of standard VoIP technology, the bandwidth it does use must be an absolute priority. Ooma prioritizes voice packets without slowing down the rest of your network so you can enjoy crystal-clear calls even while uploading video clips.

Encrypted calls
Ooma takes your privacy seriously. We use the same encryption technology governments use to protect classified data (which makes Ooma more secure than your old landline).

Adaptive Redundancy
Packet loss causes phone calls to sound stuttered or garbled with standard VoIP technology. Our sophisticated algorithms detect packet loss on your Internet connection before you even hear it and automatically deploy redundant packets to boost the clarity of your phone call.
HD Voice
Ooma HD Voice technology doubles the fidelity of your phone calls by capturing twice the speech information of a standard voice call (yes, that includes your landline.) When you and the other caller use an Ooma handset, or any HD compatible phone, your voice will sound more natural than ever.
CUT YOUR MONTHLY TV BILL NOW!
Sophisticated technology meets elegant design.
The Ooma Telo is no dumb adapter. It's actually a small, networked-managed, secure Linux computer packed with processing power to keep your calls clear and reliable.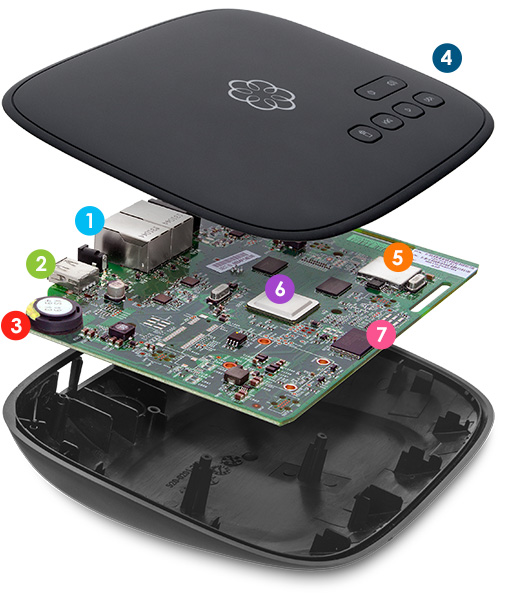 1.
Ooma is a full router capable of prioritizing voice data and directing traffic to ensure the most reliable phone service.
2.
A USB port supports Wi-Fi and Bluetooth accessories and provides future expansion opportunities.
3.
Built in speaker provides the ability to screen calls prior to answering.
4.
A keypad provides one-touch access to voicemail.
5.
DECT radio supports up to 4 wireless handsets and over 4000 sensors.
6.
Built-in 900MHz dual-core processor provides the power for Ooma PureVoice™ including HD Voice and adaptive redundancy for a more natural sounding voice without stuttering or interruption.
7.
1 GB NAND Flash with dual system image for the ultimate in reliability and upgradability to new services.