**TIME WARNER MODEM AMAZING LIMITED TIME OFFER!!**
Backed by our extended warranty!
SURFboard Time Warner Modem - SB5101U - DOCSIS 2.0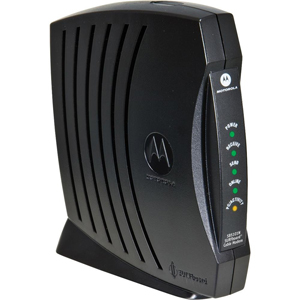 Enjoy a Super-Fast Broadband Connection with an Environmentally-Friendly Cable Time Warner Modem
Get more out of your time online and feel good about using a green product. Surf the Web and view pages quickly, download video with blazing speed and play online games faster than your opponents - all with this SURFboard cable modem. Up to 100 times faster than traditional dial-up – no phone line required. Easy-to-install and simple-to-use this Time Warner Modem
Time Warner Modem Product Features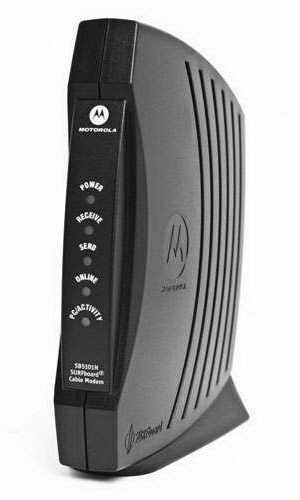 This environmentally friendly Time Warer Modem

All packaging products are made from recycled materials

The shipping carton is made of recycled corrugated material

100% of package contents is created from recycled materials

ENERGY STAR Compliant

Smaller Power Supply (PWB) for reduced environmental impact

USB and Ethernet connectivity to help ensure compatibility with almost any PC or Mac network-ready system

Supports up to 63 users (with additional networking hardware; not included)

No telephone lines needed; always on, always connected

10 / 100 Base-T Ethernet for blazing speed; capable of downloading at speeds up to 100 times faster than a standard 28.8Kbps analog phone modem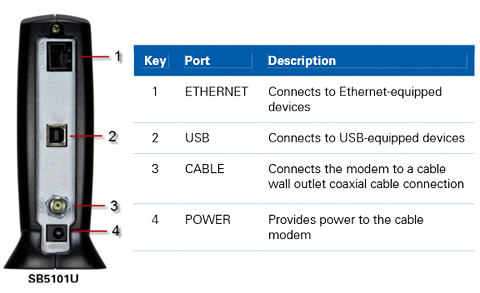 Time Warner Modem Additional Features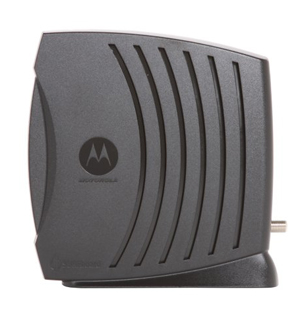 Time Warner modem Downstream data speeds up to 38Mbps

Upstream data speeds up to 30Mbps

Internet Protocol version 6 (IPv6) Ready - Next-generation Internet Protocol

Front-panel status LEDs and user-friendly online diagnostics page for quick and easy troubleshooting

Compatible with Windows, Macintosh and Unix systems

Integrated DOCSIS 2.0 A-TDMA and S-CDMA technology; backwards compatible with existing DOCSIS 1.0 and 1.1 systems

Remote configuration and monitoring from the headend using SNMP and TFTP

Includes USB and Ethernet cables, power adapter and installation CD-ROM

Note: Ask your cable company if they support DOCSIS cable modems. DOCSIS (Data Over Cable Service Interface Specification) is the industry standard for cable-based Internet access service.
Item is in QUALITY refurbished condition with EXTENDED WARRANTY and includes everything required for installation:
-Motorola SB5101u Surfboard Time Warner Modem
- Power Cord
- Ethernet Cord
User Guide: http://www.motorola.com/on/demandware.static/Sites-Site/Sites-Motorola_US-Library/default/v1337719566432/Products/SURFboard%20eXtreme%20SB6121%20Cable%20Modem/SB5101U_User%20Guide_English.pdf

**BUY NOW AND SAVE UP TO $600 FOR EVERY 5 YEARS YOU OWN THIS TIME WARNER MODEM!**