**AMAZING LIMITED TIME DEAL ON THIS COMCAST PHONE MODEM PACKAGE!!**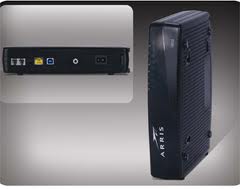 Backed by our extended warranty!

Touchstone® TM722G Comcast Phone Modem
DOCSIS 3.0 Comcast Phone Modem
Configuration for this Comcast phone modem
? DOCSIS 3.0compliant

? PacketCable ® 1.0 and 1.5 compliant

? Flexible4x4upstream/downstream channel-bonding with superior throughput

? 10/100/1000 Base-T Ethernet interface

? IPv4orIPv6addressingmodesfor

DOCSIS CM layer

? USB2.0interface

? Uptotwolinesofcarrier-gradeVoIP

? Simplifiedinteroperabilitythrough PacketACETM configuration file editor

? MultipleProtocolSupport: PacketCable (NCS) or
Session Initiation Protocol (SIP)

? 4 and 8 Hour Battery Back-Up Options
Applications of this Comcast phone modem
With millions of Touchstone Telephony Modems shipped, ARRIS is pleased to release our DOCSIS 3.0 next generation Comcast phone modem residential product family. The Touchstone TM722G DOCSIS 3.0 Embedded Multimedia Terminal Adaptor (EMTA) that delivers two lines of primary line Voice over IP (VoIP), ultra-high speed data access, and two battery pack options to support telephony service during power outages. With DOCSIS 3.0 channel bonding, cable operators can offer data services at speeds greater than 160 Mbps to their subscribers to compete against VDSL and Fiber to the home threats. The TM722G Comcast phone modem is backwards compatible with legacy DOCSIS 1.0, 1.1, and 2.0 cable equipment and can be deployed without service interruption.
Performance of this Comcast Phone Modem
? Voice performance equal to the industry leading TM602 family of products
? 1 GHz downstream RF tuner with up to 100 MHz capture bandwidth
? Configurable loop current, loop voltage management, and ringing waveform options
? Loop Diagnostics for remote testing and troubleshooting of in-house wiring
? Advance Diagnostics for easy troubleshooting - Call Quality Metrics for last 50 calls
? Multi-colored LEDs for rapid troubleshooting at installation or by phone with customer service
? Toll grade voice quality is built in to this Comcast phone modem

? High Fidelity CODECs supported with future firmware upgrade(s)

? Auto-adapting FSK/CAS tone levels, dynamic jitter buffers, and G.168 echo cancellation

Leadership in Battery Technology

? Single, easy access battery slot
? Simple to install, consumer replaceable, lithium-ion batteries
? Firmware configurable battery management and reporting for customized operation ? Boot from battery feature allows modem to boot without AC Power
CUT YOUR MONTHLY TV BILL NOW!
Try Amazon Music Unlimited Free Trial
***THIS PACKAGE ALSO INCLUDES THE WIRELESS ROUTER BELOW!***
NETGEAR WNR2000 N300 WIRELESS N ROUTER


Netgear N300 (WNR2000) Wireless-N Router (Version 2)

WNR2000-100NAR

Faster downloads and Internet gaming
NETGEAR Genie™ — easy setup
Free Parental Controls
THE NETGEAR DIFFERENCE
Live Parental Controls – Free!
Guest network access
Wi-Fi on/off button
Power on/off button
Wireless repeater mode
The NETGEAR N300 Wireless Router (Version 2) is ideal for both professional and personal Internet use, providing Wireless-N speed for simultaneous downloads, voice and music, and online gaming. Reliable and secure, it comes with free Parental Controls to ensure a safe Internet experience.
Faster downloads and online gaming - Provides Wireless-N speed for simultaneous downloads, streaming voice and music and online gaming, in addition to basic Internet applications
Live Parental Controls - Keeps your Internet experience safeGuest network access Provides separate security and access restrictions for guests using the network

Blocks unsafe Internet content and applications and can be managed from anywhere
Protects connected devices through the router such as PCs, gaming consoles, and iPod touch®
To learn more visit www.netgear.com/lpc

Wireless repeater mode Configurable as a wireless repeater for extending range
Broadband usage meter Monitors Internet traffic and sends customized reports to help keep costs under control
Jitter-free voice and gaming Automatic Quality of Service (QoS) for reliable Internet connections
Secured connection Push 'N' Connect ensures a quick and secure network connection
NETGEAR Green features Power and Wi-Fi on/off buttons, Energy Star-compliant power adapter and 80% recycled packaging
Items are in refurbished condition with EXTENDED WARRANTY and include everything needed for installation.
1 TM722G Cable Modem + Netgear WNR2000 Wireless Router
2 External Power Cord
2 CAT5e High Speed Ethernet Cord
1 Internal Back Up Battery
Custom Self Install Instructions
NETGEAR WNR2000 USER GUIDE: https://documentation.netgear.com/wnr2000/enu/202-10397-01/pdfs/FullManual.pdf
ARRIS TM722G MODEM USER GUIDE: https://www.wavebroadband.com/resources/internet/TM722-Telephony-Modem-User-Guide.pdf
System Requirements
Broadband (cable, DSL) Internet service and modem with Ethernet connection
802.11 b/g/n 2.4 GHz wireless adapter or Ethernet adapter and cable for each computer
Microsoft® Windows® 7, Vista®, XP, 2000, Mac OS®, UNIX®, or Linux®
Microsoft® Internet Explorer® 5.0, Firefox® 2.0 or Safari® 1.4 or higher
Use with an N300 Wireless USB Adapter (WNA3100) for maximum performance
Standards
IEEE® 802.11 b/g/n 2.4 GHz
Five (5) 10/100 (1 WAN and 4 LAN) Ethernet ports with auto-sensing technology
Performance
Five (5) (1 WAN, 4 LAN) Fast Ethernet ports
Supports Wireless Multimedia (WMM) based QoS
Security
Wi-Fi Protected Access® (WPA/WPA2—PSK) and WEP
Double firewall protection (SPI and NAT firewall)
Denial-of-service (DoS) attack prevention
Exposed Host (DMZ) for secure gaming
Ease of Use
Push 'N' Connect using Wi-Fi Protected Setup® (WPS)1
Physical Specifications
Dimensions: 177.5 x 130 x 35 mm (7 x 5.1 x 1.4 in)
Weight: 0.68 kg (0.88 lb)
Advanced Features
Live Parental Controls with flexible and customizable filter settings
Multiple SSID guest networks (separate security and access restrictions)
Broadband usage meter measures Internet usage
Power and Wi-Fi on/off buttons
NETGEAR Green Features