ARRIS Battery
P/N: ARCT01393
MNF/B: BPB024H
TOUCHSTONE MODEM Arris Battery Backup
COMPATIBLE FOR ALL TM502 / TM602 / TM702, TM722/TM802, TM822, TG852g, TG862g, TG1682g, and more SERIES CABLE MODEM MODELS

BRAND NEW
FEATURES
Lithium-ion Arris Battery Pack
8.4 Volts. 2400 mAh
Up to 8 Hours of Charged Hold Time

Service Life 6 - 10 Years
The Battery Pack is for Arris Touchstone Models Only. In the event of electrical power failure the Modem will automatically switch to the battery pack for power. When electrical power is restored the modem will switch back to electrical power and continue charging. The ARRIS battery pack charges right inside the modem. No external battery charger or intervention is required. The battery pack is not intended to be the primary power source for the modem. Service during an electrical power outage is dependent on your service provider's network capability. Contact your service provider for information on network capability. Battery backup times are typical and can be influenced by the age of the battery, the charging state, storage conditions, operating temperature as well as factors such as data and voice usage. Buy this Arris Battery now for outage emergencies.
Arris TG862G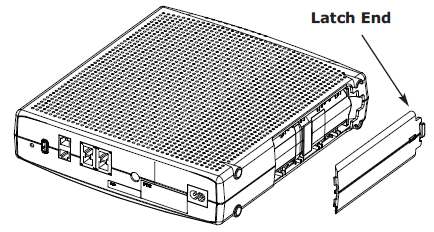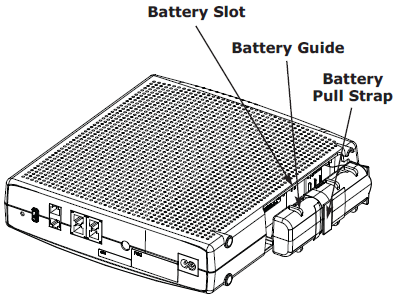 How to properly remove the battery:
Unplug the power cord from the device to ensure no power is going through.
Press down and pull back on the latch holding the battery door (on the bottom of the Telephony Gateway).
Carefully pull the door toward you.
Hold the battery so that the guides on the battery align with the slots on the Telephony Gateway and slide the battery out of the bay.
Reattach power cord to the power adapter.
Reinstall the new battery by once again aligning the battery with the slots on the back of the bay and pressing down.
Reinstall rear cover from battery port and your Arris battery is ready.
*Terms and Conditions apply to the following
**BUY THIS ARRIS BATTERY AND SAVE UP TO $600 FOR EVERY 5 YEARS YOU OWN YOUR MODEM!**